The Hendrick Hudson Free Library Board of Trustees and staff are proud to be part of the movement to make libraries economically feasible, environmentally sound, socially equitable and in line with our community's core values to ensure that we remain vital, visible, and viable.  We are doing this by being leaders in promoting sustainability.
Sustainability is more than green buildings and energy savings.  It's the capacity to thrive.  It's stable funding, environmental stewardship, and being community-driven.  We want libraries to partner with and revitalize their communities and help them bounce back from any disruptions they might face such as severe weather, natural disasters, economic recession, power outages, or terrorism.  We want libraries to help their communities to keep going and grow.
Our Environmental Policy was adopted by the Board of Trustees on February 24, 2014 and is reviewed annually.
The Hendrick Hudson Free Library is commitment to being a community leader
Hendrick Hudson Free Library is a founding member of the Sustainable Libraries Initiative. (SLI) provides library leaders with a proven path forward to co-create libraries and communities that will thrive in the coming years. The Sustainable Library Certification Program and the SLI community of practice focuses on leadership to enable libraries, and ultimately communities, to align practices with the triple bottom line.  Hendrick Hudson Free Library's director, Jill Davis, is a mentor for other libraries throughout the United States and has co-authored a chapter in Libraries & Sustainability: Programs and Practices for Community Impact. 
Awards that reflect our commitment to sustainability:
Green Business Partnership certification,  2015
NYS Joseph Shubert Library Excellence Award, 2016 
Charles W. Brown, Jr. Sustainability Award, 2017
Westchester County ECO Award, 2016 & 2018
Sustainable Library Initiative, 2019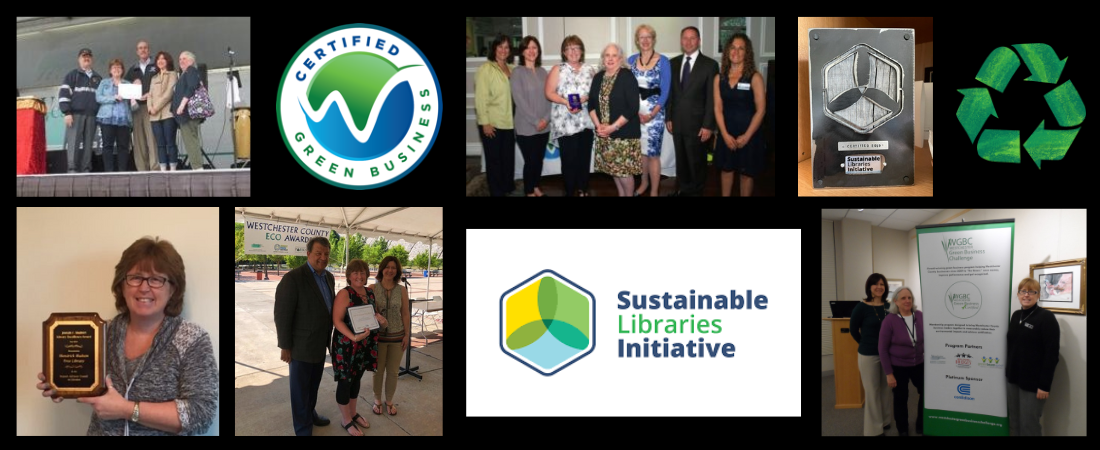 Sustainability by the numbers (yearly averages):
99% LED lighting interior and exterior
289 Solar Panels
50 lbs compost
6,100 lbs Discover Books Recycled
5 gallons CFL Bulbs Recycled
50 lbs Batteries Recycled
500 lbs Plastic Film Recycling with Trex
View our Sustainability Plan 2021-2024.
Useful Links: 
Town of Cortlandt Recycling Guide and Sanitation Schedule 
Westchester County Shredder Schedule 
Visit the New York League of Conservative Voters' Website for some good tips on going green!
Energy Saving Links:
Presentations: